Bosworth Creek
Between 2007 and 2010, a monitoring project of Bosworth Creek was sponsored by the Ɂehdzo Got'ı̨nę Gotsę́ Nákedı, with funding from the NWT Cumulative Impact Monitoring Program (CIMP) along with other partners. As part of this project, students at Mackenzie Mountain School were engaged to monitor aquatic ecosystem health. Sampling and analysis of bird populations, soil and water chemistry, fisheries, fish habitat, benthic invertebrates, amphibians, and creek habitat were conducted. Community monitors and researchers were trained, and Mackenzie Mountain School students learned a wide range of scientific applications. The Ɂehdzo Got'ı̨nę Gotsę́ Nákedı developed capacity to monitor impacts and account for natural and man-made changes to watersheds. This information was considered in the Mackenzie Gas Project cumulative effects hearings.

Bosworth Creek originates at Hodgson (Jackfish) Lake (65° 18'N 126 41'W), Tulita District, Sahtu Settlement Area and parallels the base of Discovery Ridge before changing course and joining the Mackenzie River within the municipal boundaries of the Town of Norman Wells. The creek exhibits a variety of habitats along its course and has played an important role in local history. Natural flow was impeded with the construction of a weir in 1960 approximately 250 metres from its convergence with the Mackenzie River. The pond created behind this weir supplied both the oil refinery for their steam plant and the Town of Norman Wells with drinking water. The town abandoned this water source in 1991 and closure of the refinery in 1996 prompted channel flow reclamation as recommended by the Government of the Northwest Territories (GNWT). The weir was removed and natural flow restored in 2005 under Imperial Oil Resources NWT Limited's (IORL) Reclamation and Restoration Plan.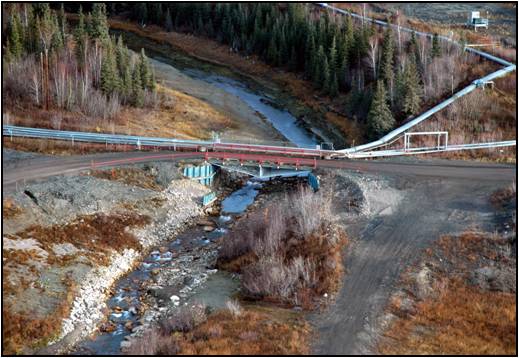 The weir site at the lower Bosworth Creek bridge within the IORL lease property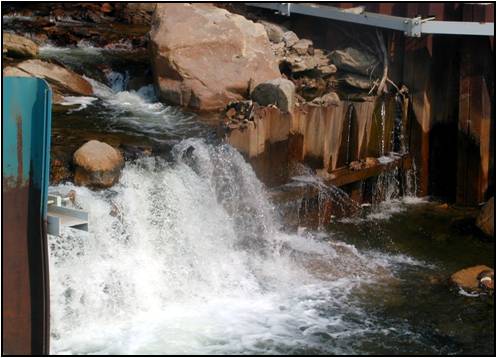 The weir site at the lower Bosworth Creekbridge between 1960 – 2005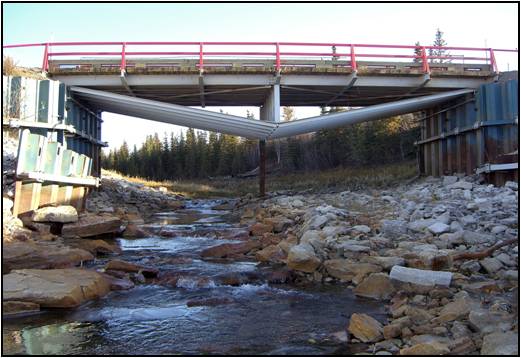 The current site following removal of the weir in 2005
The Bosworth Creek Monitoring Project was developed following questions raised by local residents regarding the absence of whitefish and other aquatic species. The general question was "Now that the barrier has been removed, will these animals re-inhabit the stream on their own or should they be re-introduced?" The SahtuRenewable Resources Board (SRRB) contacted the Department of Fisheries and Oceans (DFO) and discussed possible avenues of mitigation. It was concluded that re-stocking the creek was unnecessary due to the weir's removal and that natural introductions should occur following stream reorganization.
The recent restoration of Bosworth Creek presents a unique opportunity for local youth and residents to monitor aquatic ecosystem health. This monitoring project enables students and others to learn about local fish, invertebrates, hydrodynamics, sedimentology, streambed morphology, sampling techniques, data collection and evaluation. Students from Mackenzie Mountain School learn a wide range of scientific applications and report their findings to the scientific community through public presentations, science fair projects and publications.
Project Summaries:
pdf Bosworth Creek Ice Study: Implications for the Northern Ecosystems (2.33 MB)
pdf Bosworth Creek Ice Study: Implications for the Northern Ecosystems Poster (1005 KB)
pdf Bosworth Creek: Literature Review (255 KB)
pdf Bosworth Creek: Water Quality Data (2.80 MB)
pdf Bosworth Creek History Project (2.94 MB)
pdf 2006-2007 Bosworth Creek Monitoring Project (2.40 MB)
pdf 2007-2008 Bosworth Creek Monitoring Project (1.13 MB)
pdf 2008-2009 Bosworth Creek Monitoring Project (40 KB)