2017-ongoing From Dene Kedǝ to Dene Ts'ı̨lı̨: Rethinking Resurgence in the Sahtú Region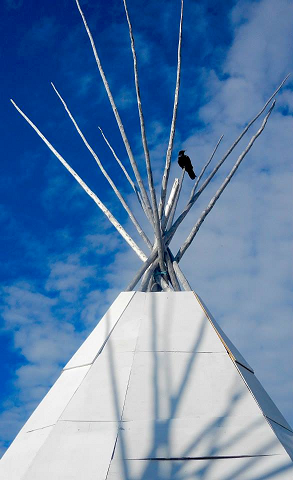 From Dene Kedǝ to Dene Ts'ı̨lı̨ is a collaborative project that explores lessons learned through the past fifty years of Dene and Métis language and way of life initiatives. Bringing together knowledge and experience from longtime activists and educators and youth, as well as review of over 275 documents, the aim is to create a resource for decision-makers and researchers as a basis for resurgence in the Sahtú Region. All phases of this project involve a dialogue between today's initiatives and yesterday's legacy.
The picture that has emerged is complex, involving at least seven domains of resurgence: speakers and learners; local knowledge; documentation; education; media; law and policy; and ways of life. During this project we saw the emergence of exciting projects like the Dene Ts'ı̨lı̨ School, a cross-cultural on the land learning opportunity for youth. This school became an integral part of the research and learning process.
Explore the resources that contributed to this research using the Dene Kedǝ to Dene Ts'ı̨lı̨ Catalogue of Resources.
Key Messages
Three key messages have emerged so far from this project:
1. Sahtú Dene and Métis families need to live, learn and be well on the land.
2. Holistic Dene Kedǝ and Dene Ts'ı̨lı̨ programs support strong governance.
3. Youth need to be drivers for Dene Kedǝ and Dene Ts'ı̨lı̨ initiatives.
Phase One – Research and Reporting
January-October 2017, and ongoing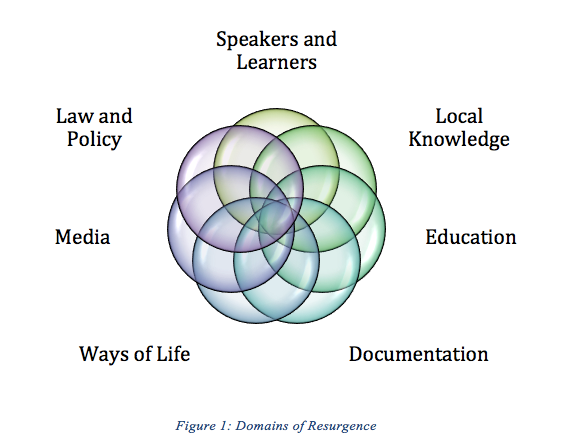 The research team began with a SSHRC-funded research project, resulting in an October 2017 report. This report synthesized existing knowledge about Dene Kedǝ, (Dene language) and Dene Ts'ı̨lı̨ (being Dene, Dene ways of life) in the Sahtú Region. Its focus, was to review revitalization programming from the last 50 years of Sahtú history, in order to understand what work was already done, what impact it has had, and what lessons have been learned from it. Key report sections included a literature review; a synthesis of Dene and Métis youth interviews; a timeline; an annotated bibliography; key messages for policy; and a plan for knowledge mobilization. The research team recognizes that there remain gaps in the compilation, and plans to continue adding to the compilation during Phase 2.
Phase Two – Knowledge Mobilization
Ongoing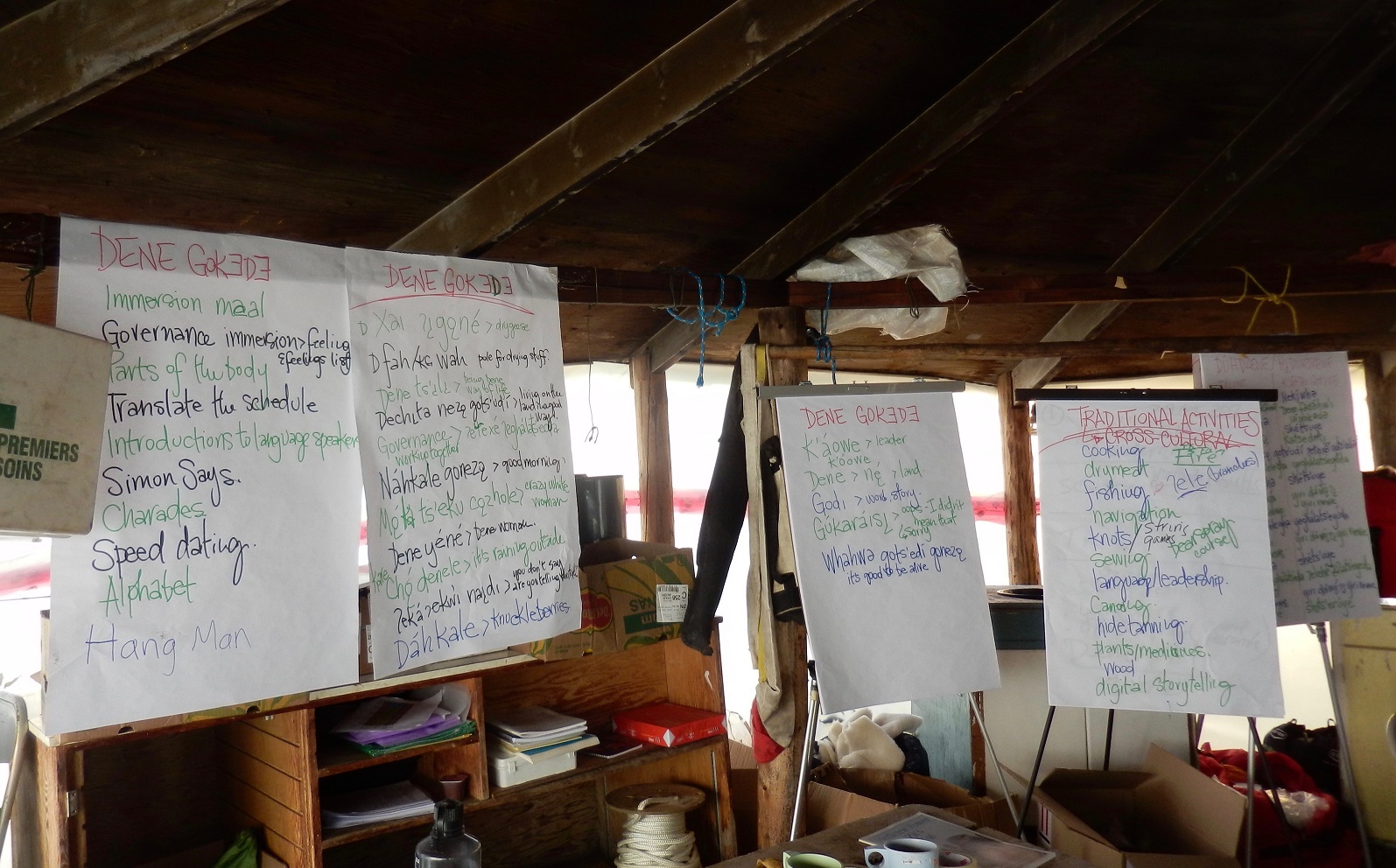 The research team has begun building results into a searchable database, sharing results on social media, and adding new resources to accessible platforms as they are surveyed. Future goals include the development of an interactive online timeline. This review of historical programming also continues to inform contemporary projects with youth such as the Dene Ts'ı̨lı̨ School, which many of the Dene Kede to Dene Ts'ı̨lı̨ report co-authors are involved with. A further output of this project has been the development of a new network of knowledgeable individuals, both currently active and retired, as well as Territorial and regional organisations with an interest in supporting Dene Kedǝ and Dene Ts'ı̨lı̨ processes. As Sahtú-based co-authors directly apply research results in regional and community initiatives (such as the SRRB, Nę K'ǝ Dene Ts'ı̨lı̨ Forum, Sahtú Youth Network, and local Ɂehdzo Got'ı̨nę), the regional network will disseminate knowledge with an eye to best practices in policy and scholarship.
Team Members
For more information about this project, or to access this project's resources, please contact Deborah Simmons at This email address is being protected from spambots. You need JavaScript enabled to view it..
Sponsors
This research was supported by the Social Sciences and Humanities Research Council of Canada: An Indigenous Knowledge Synthesis Project as part of the Imagining Canada's Future Initiative. The team also thanks the Ɂehdzo Got'ı̨nę Gots'ę́ Nákedı and University of Toronto for their partnership.
Total Budget
$50,000
Research Summary
pdf Dene Kedǝ to Dene Ts'ı̨lı̨ - Máhsı cho, ToC and Executive Summary. (636 KB)
Report
This report provides an overview of the implications of this Knowledge Synthesis, followed by a discussion of project scope and approach. Results are provided in two sections: first a thematic timeline summarizing the literature review, and second a summary of key messages from the activities, focus groups and interviews at Dene Ts'ı̨lı̨ School. More details are provided in a series of appendices.
pdf Full report with appendices. (4.03 MB)
Report Sections
pdf Appendix A (189 KB) : a list of acronyms and terms used in the report, along with a map of Sahtú communities.